The Spanish food is being recognized as one of the top cuisines in the world, very rich in flavors and varied, a combination of each region specialty, the expression of our culture and identity.
From "Las Paellas de Sitges" we want to bring you the best of our gastronomy to your home/holiday home.
Our chef, who was born in Valencia, an expert in cooking Mediterranean food, has made a selection of the top Spanish food dishes being the "Tapas" and the "Paella" our identity stamp.
Our passion for Mediterranean culture and gastronomy has led us to come our dream true. Through our different services and menus, we can transmit our culture and cuisine with people around the world.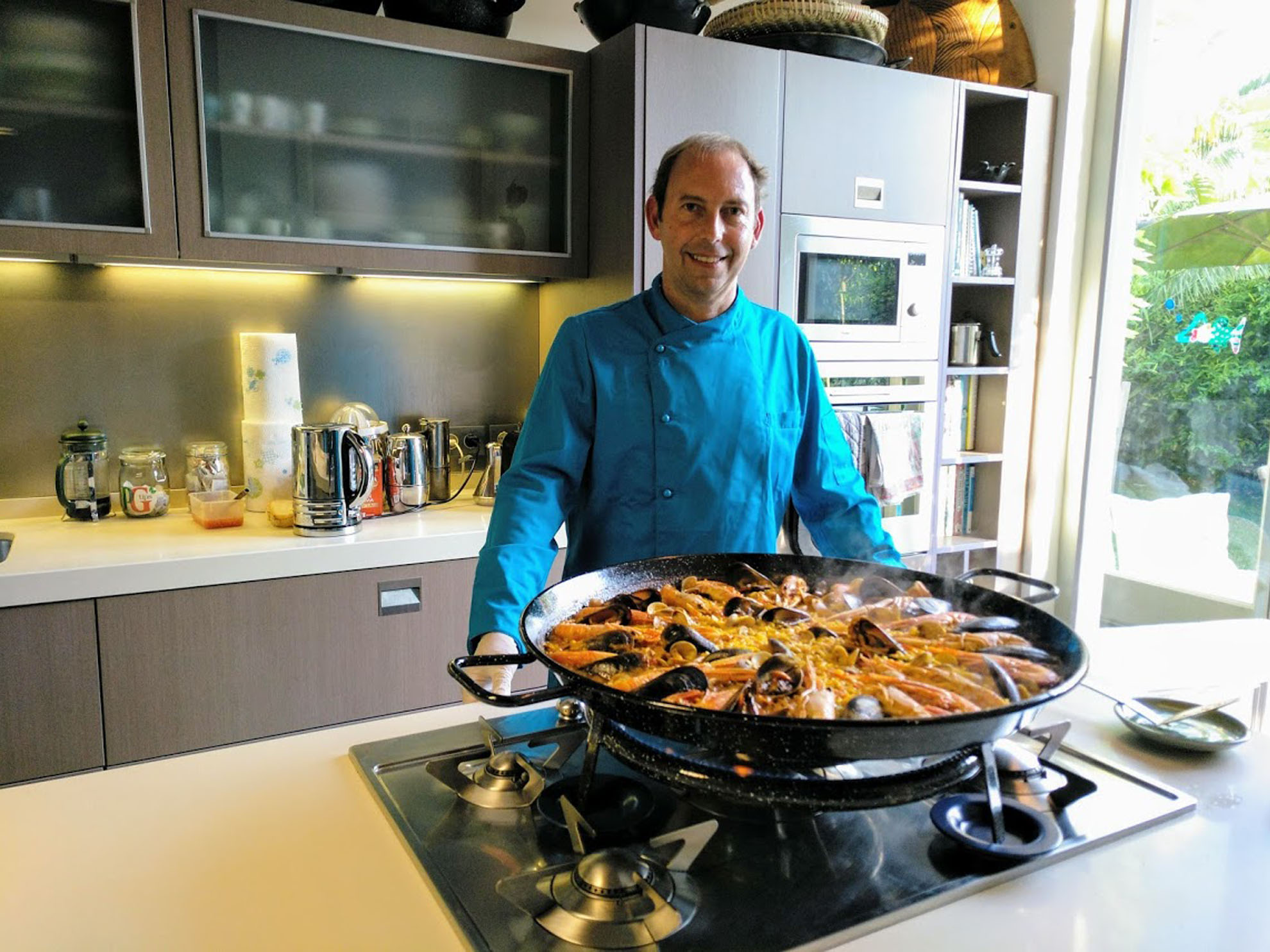 If you are on holidays, we invite you to try our paella delivery or private chef Service. Would you like to dare to go Beyond? Ask for our paella cooking classes
La paella is the one of the most international dishes of the Spanish cuisine, but curiously, a few people know about the true recipe and the origin of it.
It originated in the fields of a region called Valencia on the eastern coast of Spain, in an area called the Albufera, a fresh water laggon near Valencia. The workers on the fields during lunch time, used to combine different ingredients that they could find in the fields, and mixed them with rice: vegetables, snails, chicken and rabbit.
Today paella is cooked in all the regions of Spain in different versions: seafood paella, fideua (with noodles), black rice, mixed paella… but not all of them are following the authentic recipe and following the basic rules to cook and excellent paella.
In las Paellas de Sitges we are experts on that because our chef is from Valencia and he knows all the secrets for the best preparation.
Here you have some of our basic rules:
· The Bomba variety rice, which absorbs a lot of water, which make it suitable for the paella.
· The paella pan used and in the right size depending on the number of people it is cooked for.
· We prepare the paella over an open fire, so to cook on site, we bring a paella Burner & Adjustable tripod Stand
· We finish the cooking of the Paella on site, to serve it recently cooked.
· We use only fresh and seasonal ingredients.
Isn't your mouth watering? Ask for our Delivery Service and enjoy an authentic Spanish paella at your holiday home.
If you are on holidays in Spain you can not miss the experience of eating Delicious tapas.
Difficult to say what exactly tapas are, because it depends on the origin they come from and you can find them in different versions.
In general tapas can be snacks, canapés, small portion of food served on a plate or food on a slice of bread with a took piece (traditional pinchos).
For the Spanish people is part of our social behavior and we love to go just to "tapear" with Friends or relatives, before lunch or dinner, afterwork with a glass of wine or beer or even enjoy a full lunch consisting of different kind of Tapas.
As tapas can be prepared with practically anything, in Las Paellas de Sitges we have selected the most representative tapas of the Catalan and Spanish cuisine to bring you to your home or home holiday.
Here you have our selection of tapas, which can be added to your Paella delivery order or just to enjoy some of them with our Menu "a taste of Spain" or our "Tapas Menu".
· Traditional Spanish omelet with onion
· Traditional Catalan bread, toasted and served with fresh tomatoes and extra virgin olive oil.
· Assorted of Iberian cured ham and small portions of Manchego Cheese.
· A taste of Gazpacho, cold soup of tomatoes with red and Green pepper, cucumber, onion,vinagre and olive oil.
· Iberian ham handmade croquettes
· Garlic Prawns
· Tapa of Ensaladilla Rusa, potatoes salad with tuna, red pepper, anchovies and mayonnaise.
We all thought that they were fantastic and the quality of food was very high. I hope they keep that up as we will definitely use them again when we are over again in the summer. Please do send their comments on as all the girls were very impressed!
Review for evening of Tuesday 7th August.
We booked 'Las Paellas De Sitges' to cook a seafood paella for a party of 11 in our rented villa . This was a very professional private home chef service, easy to organise and excellent value for money. Both Juan and his partner were engaging yet non intrusive. However most importantly the paella was absolutely fabulous in presentation and taste. A delight to the senses. Would definitely recommend.
Suzanne Wilebore London